Monthly Walks
Once a month the members of Colliewobbles meet up for a regular walk at Nortons Park. This walk, as with most of our walks, is very easy going and can be enjoyed by people and dogs of all ages and abilities. The monthly walks are also a great place to meet other Colliewobbles members and discuss all things Collies and Shelties. It is also a great introduction for new members and we highly recommend newcomers come down for a monthly walk before joining the Facebook group.
When:
10am, first Saturday of every month.
Where:
Nortons Park on Nortons Ln, Wantirna South VIC 3152.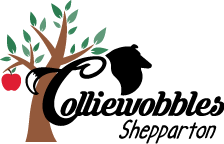 When:
11am, second Sunday of every month.
Where:
Barbeque Shelter near Aquamoves, Tom Collins Drive, Shepparton VIC 3630.
When:
11am, third Sunday of every month.
Where:
Meet at The Salty Dog Cafe, 50 The Esplanade, Torquay, VIC 3228.

New
When:
First walk at 11am on 22nd of September 2019.
Where:
Lake Guthridge, Sale, VIC 3850.
Additional Walks
Quite often there will be additional walks added to the schedule which allows members to explore new and interesting parks and areas. These additional walks also allow members to join in who are unable to attend the usual Saturday walks, ensuring everyone gets to join in and have fun. They are often held on Sundays and can be held anywhere, including but not limited to areas like Warburton, Sandringham and more!
See Upcoming Events
Events are posted on Facebook
Future Regional Walks
Colliewobbles is currently in the process of branching out! We are looking at opening up more regional walks which will be similar to the existing walks, only in new areas for more members to enjoy. Keep up to date on all walk news and events in our Facebook group.